Description: This rotary sheet cutter is built in a modular configuration so it can be incorporated into a new machine or replace existing units. Assemblies can be designed to meet your requirements.
The rotary sheet cutter has an extended shaft on the cutting cylinder where a timing pulley or gear can be attached. The rotary knife cutters should always run faster than the web to ensure good cut quality without disturbing the web. The cut length is determined by the relationship of web speed to cutting speed. Rotary units can have crush cut blade which is easy to replace.
A crush cut is achieved by the blade in the top cylinder, cutting against a hardened anvil roll. These units have blade spacing from 2 in. and up and are good for thin materials. The cutter has a unique quick change blade design so even an unskilled operator can install a new blade in a few minutes. This is ideal for perforated cuts; the blades can be made to meet your perforation requirements.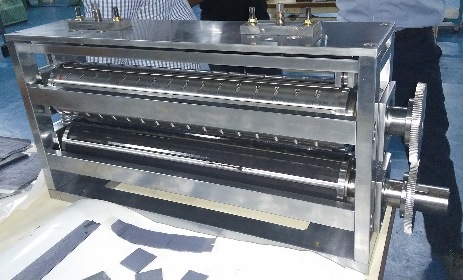 Options:
A) Servo drive system to match your requirements
B) Special designs for unique requirements
Benefits:
Blade change in least possible time
Disposable steel rule die blades as well hardened blades as per requirement
Good for thin materials
Multiple blades per cutting cylinder available
Lower solid anvil supports web during cutting
The rotary system has a solid hardened anvil roller
The top rotary cutting blade cuts against the hardened anvil
Precision bearings will be used; they are designed to take high load forces
The reliable cutting blade assembly is designed for quick and easy removal
Precision ground and bored side frame
The unit will have an output shaft, which can be driven
The top cutting drum and lower anvil are driven together
Film, foil, paper, non-woven, PTFE, tubing, Velcro, shrink tubing, laminates, metalized film, tape, foam, mesh, laminates, medical devices, pads