Machine
Recently Manufactured , Supplied and Successfully Commissioned Extrusion Coating, Laminating ,Profile Cutting and Sheet Cutting Machine to One mnc group for rubber adhesive compound
Machine Description
Machine serves for coating the rubber substrate of customer extruder on paper& to laminate the same. The laminating unit with the nip system serves for continuous lamination of a laminating substrate web. For controllable cooling of coated substrate webs passing the cooling tunnel continuously. The cooling tunnel serves for adjusting the temperature of a coated substrate web. The single unwinder serves for unwinding up substrate reels with a maximum diameter of 800 for paper and a single unwinder serves for winding up substrate reels with a maximum diameter of 600 for other material as per TDS. Substrate reels on wound up completely or partly can be manually replaced by winding shafts with new rolls.
Inclinometer
Spurta's electronic Inclinometer is a wide angle measurement device. This capacitance based compact and rugged sensor is ideal where space is critical and environment conditions are serious concern. Its wide angle sensing and rugged anodised aluminium housing offers user an optimum design solution for reliable inclination sensing applications. Designed for easy integration the inclinometer produces an output signal corresponding to direction and magnitude of angulardisplacement.

Product Overview
NIP Sense
In Textile open width processing there are n numbers of processing problems. Solutions of the problems depend on the skill of Operator and supervisor. If the operator is new than during training itself there are chances of huge losses. Some problems comes due to not following the lengthy procedures. So, how if procedure itself is shortened? Normally in open width processing there are squeezers/nips at each point and to check the impression or expression of the Nip/Squeezer is very essential. Normal way is to take the powder test or carbon impression which takes lots of time. Now we have come up with the NIP SENSE meter. Check the contact width in Left-Middle-Right and be worry less of tension of Uneven squeezing.

Why the need of Portable squeeze roll Width meter in Converting Industry? The roller nip is important for Offset, Gravure and Flexo printing, Calendaring, Embossing and Coating and Laminating. In all above process the evenness of contact area is important for best and even quality of output. Presently for printing, contact width measurement is estimated by applying ink to the rollers, squeezing them and measuring the width of the stripe which varies according to the type of ink and final viscosity after mechanical mixing. In other processes like embossing, coating, laminating and calendaring carbon impression is the way to measure the nip properties. The dynamic properties of the rubber roller constantly change. The rubber ages and hardness is also affected by the heat generated from friction during machine running. Hence the regular monitoring of NIP width measurement is necessary.

Product Overview
Rotary Die Cutting Unit
We have emerged as one of the leading manufacturer and supplier of a wide variety of Die Stations. Our offered product is manufactured by our experts using high quality raw material that is sourced from the reliable vendors of the industry. The offered product is available in various specifications to meet the varied requirements of our clients.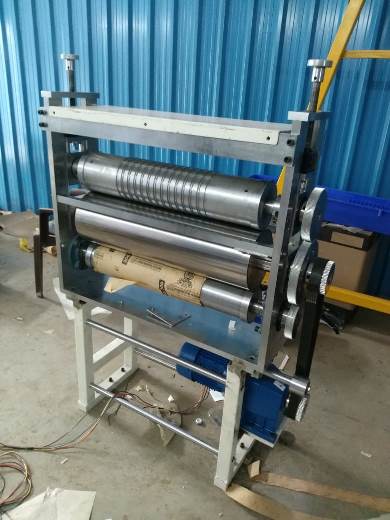 Produt Features
• Kiss cut/ To-liner express die
• Ideal for longer runs
• Ideal for pressure-sensitive die-cutting on today's thinner filmic materials
• Machine finished using latest manufacturing technology
Product Applications
• Pressure sensitive labels
• Paper applications
• And many other tag & label applications
• Extruded Soft Rubber / Elastomer Sheets
Processed Materials
• Thinner filmic materials
• Paper
Markets For Use
• Consumer Goods
• Medical & Pharmaceutical
• Industrial & Automotive Fabrication
• Label Industries • Personal Care
• Packaging (includes Flexible Packaging, Folding Carton, Liquid Packaging)
Rotary Sheet Cutting Unit
Description: This rotary sheet cutter is built in a modular configuration so it can be incorporated into a new machine or replace existing units. Assemblies can be designed to meet your requirements.
The rotary sheet cutter has an extended shaft on the cutting cylinder where a timing pulley or gear can be attached. The rotary knife cutters should always run faster than the web to ensure good cut quality without disturbing the web. The cut length is determined by the relationship of web speed to cutting speed. Rotary units can have crush cut blade which is easy to replace.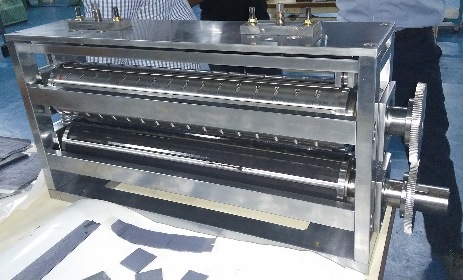 A crush cut is achieved by the blade in the top cylinder, cutting against a hardened anvil roll. These units have blade spacing from 2 in. and up and are good for thin materials. The cutter has a unique quick change blade design so even an unskilled operator can install a new blade in a few minutes. This is ideal for perforated cuts; the blades can be made to meet your perforation requirements.
Options:


A) Servo drive system to match your requirements

B) Special designs for unique requirements
Benefits:
Blade change in least possible time
Disposable steel rule die blades as well hardened blades as per requirement
Good for thin materials
Multiple blades per cutting cylinder available
Lower solid anvil supports web during cutting
Specifications:
The rotary system has a solid hardened anvil roller
The top rotary cutting blade cuts against the hardened anvil
Precision bearings will be used; they are designed to take high load forces
The reliable cutting blade assembly is designed for quick and easy removal
Precision ground and bored side frame
The unit will have an output shaft, which can be driven
The top cutting drum and lower anvil are driven together
Materials:

Film, foil, paper, non-woven, PTFE, tubing, Velcro, shrink tubing, laminates, metalized film, tape, foam, mesh, laminates, medical devices, pads
Unwind Rewind Detail
Our Unwinders and Rewinders guarantee the perfect stability on which the quality of the end product is based. Our winding and unwinding systems fit in any coating line, shaftless or with winding shafts, tension control in automatic mode throughout the diameter and operate with the same high precision from 0.1 m/min to 500 m/min.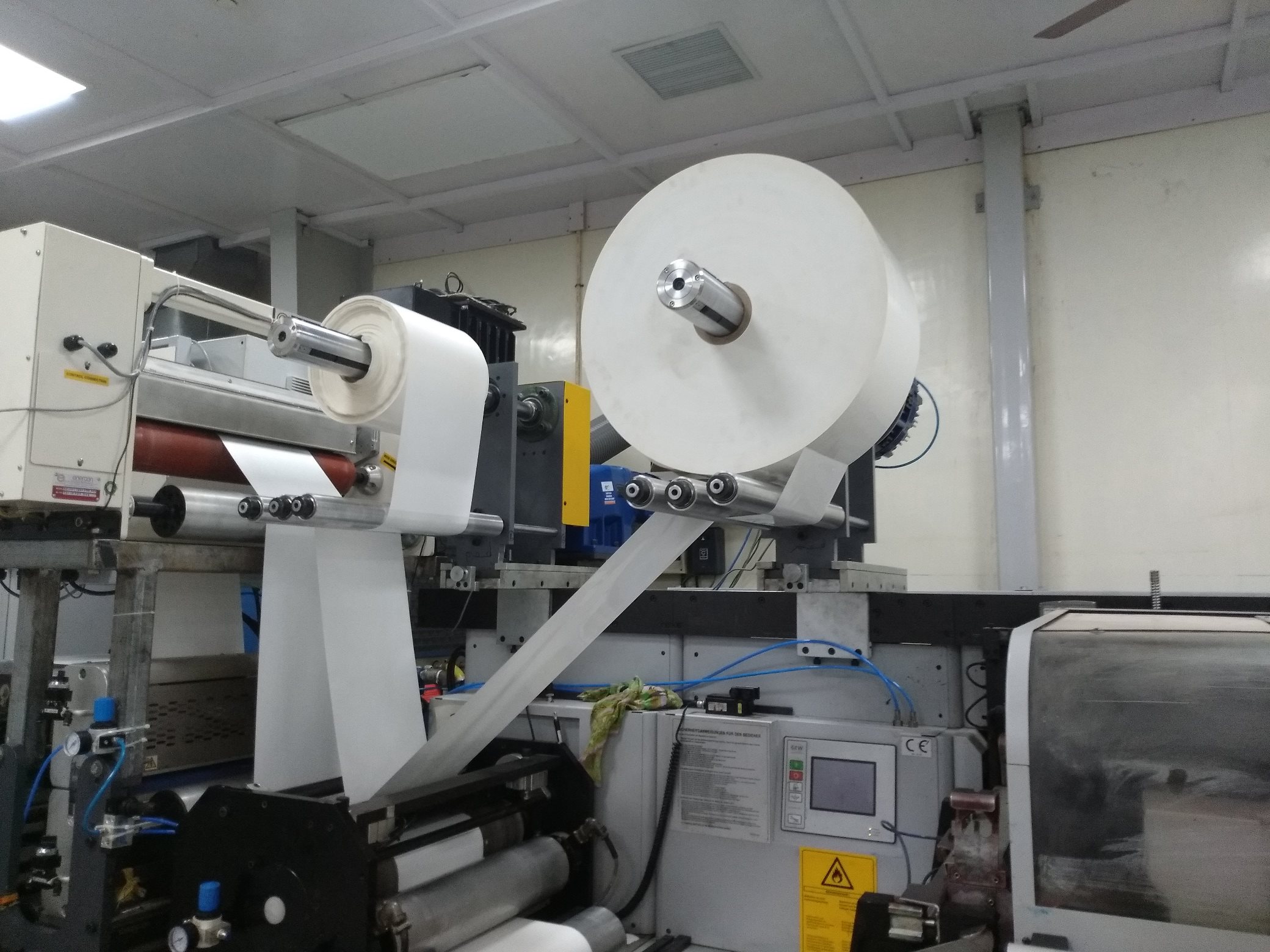 The winders can be used for a wide range:
• Single winder
• Shafted or shaftless
• Roll diameters up to 1200 mm
• Roll weights up to 1000 kg
• Perfect winding accuracy
• Optimum energy efficiency
• Motorised or Break / Clutch (Optional)